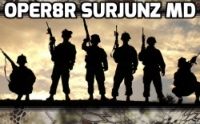 Member in Good Standing
Posts: 1188
Joined: 2013-02-05 / 19:44 UTC GMT +00:00
2013-08-30 / 02:42 UTC GMT +00:00
I am not a fan of putting ANY silicon oil on my hop up or down the barrel..... NO no NO no NO.
My cleaning process consists of taking the inner barrel/hop up unit out of my AEG, taking the hop up unit off the barrel.
Once I have done that I take small strips of a microfiber cloth and give the inner barrel a couple of passes with silicon oil.
After my barrel is clean I polish it with car polish. I know it sounds stupid but I have read a lot on this and I have found that it works great for accuracy. I use a variable speed drill and attached my cleaning rod on it. Did about 3-4 slow passes with car polish in the cloth and one to clean the access off. The inner barrel at this point should be CRAZY clean and SUPER SHINY.
I then take my bucking and wash it with warm water and dish soap. Once its washed I let it air dry and reinstall everything properly.
People who say you should spray silicon oil in your hop up unit are quite frankly...
The whole point of a hop up bucking is to make solid contact with your bb which gives it a backspin. If you have anything on your bucking it will not grab the bb as well as it could and thats why your accuracy could decrease.
I might do a deep cleaning of my inner barrel once every 4-5 gamedays thats it. or if i see my accuracy is suffering.